Five Star Maintenance

Janitorial Services & Supplies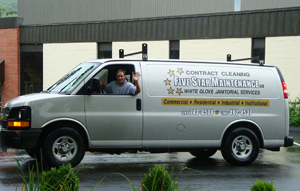 Five Star Maintenance, established in 2001 is located in Danbury, CT. We have over 20 years experience in the janitorial service and janitorial supplies industry. Customer satisfaction is paramount. We understand the needs and requirements of our customers and the key role that excellent management and immediate response plays in building our business. This is why our emphasis is on supervisors and their effective deployment in the field. A building must be properly supervised in order for the services to meet their full potential. Building managers should not have to constantly remind the cleaning and services staff of routine requirements. This is why Five Star Maintenance has our managers visit each building on a random basis to ensure that all cleaning and services specifications are adhered to.
Jose Filipe, Owner
Five Star Maintenance, LLC
Green Seal Certified

As newer materials are used in building interior design, we are constantly updating our information on better cleaning materials, services and processes to help us do a more thorough job and avoid the pitfalls of time saver products verses reliable people and safety. We use products that are compatible with the environment, as they actually reduce our expenses and allow the customer to enjoy a safer and more carefree work environment. All of our cleaning products are Green Seal Certified.
Superior contract cleaning, janitorial services and supplies
At Five Star Maintenance, we pride ourselves in the ability to do the same job more effectively and at a lower cost than our competitors through the use of more automated equipment, such as auto scrubbers, carpet cleaning machines, vacuums, etc. Our focus is on keeping your occupants happy through the use of "green" compliant cleaning agents, conserving energy by shutting off lights in designated areas, and making sure that your building is safe and locked. Our supervisors perform weekly routine inspections of your residential or commercial properties in order to ensure you that the proper services, supplies and maintenance are being performed. Our references and our clients testimonials are the best way to attest to our performance, service and reliability. We supply comprehensive reference listings for your review before you hire Five Star Maintenance as your contract cleaning service. You will not be disappointed!